Animating Your Assemblies Like a Champion
There's this term called "edutainment," which Oxford Languages describes as "entertainment with an educational aspect." And, yes, I'm unsure I really 'had to' provide the definition for the word "edutainment," as it was largely inferred.
Anyway, I've always found the design and engineering content world to be rich with this stuff. It can feel easier to learn new things when learning is fun. I think most of us would agree with that idea.
For instance, consider the prospect of learning to 'build your own laser engraver.' You might think that's neat on its own. But now, consider the prospect of learning how to build a laser engraver while using your own company logo or an illustration of Batman.
The second option sounds way more enticing to me!
SOLIDWORKS Champion Yahya Khedr knows this tactic all too well. Earlier this year, Yahya set out on a quest to use SOLIDWORKS Motion to create cool and interesting animations.
This LinkedIn post featuring some of Yahya's best Motion animations got 1,450 LinkedIn reactions and 82 comments!
"I found out about SOLIDWORKS Motion around the same time I started using SOLIDWORKS," Yahya recounts. "That's because I started learning using the built-in tutorials that come with the software, which cover many topics – including SOLIDWORKS Motion."
"I was instantly fascinated by its capabilities. In no time, I was using it to animate many of my models, including the Wave Motion Simulator I submitted as a physics project while in school!"
It's true that you wouldn't describe some of the animation Yahya has created and shared as exhibiting 'hardcore engineering principles,' but that's not always the point.
For example, Yahya made animations showing how to: color sort 565 balls within an hourglass-shaped prism and shift a cutout on a chocolate bar in a way that retains its core, original shape.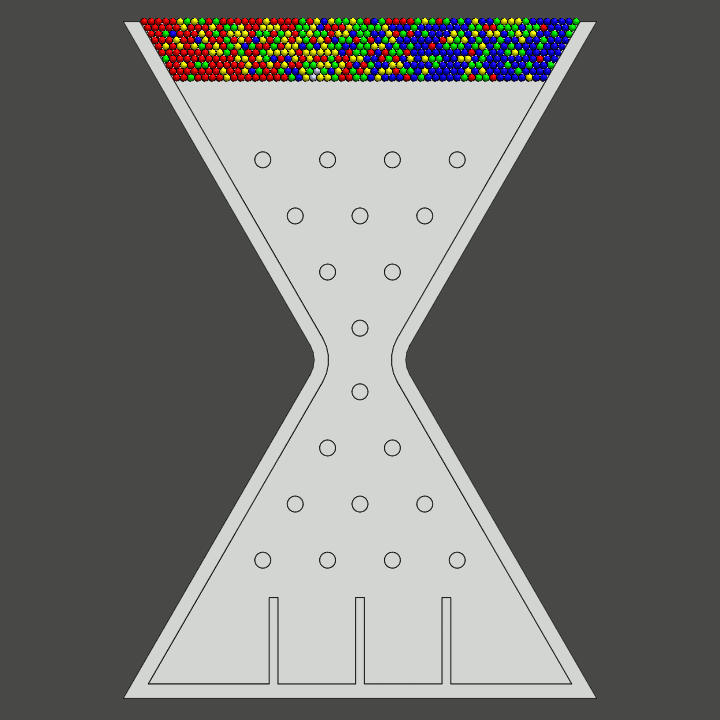 Regarding the ball sorting animation, Yahya explains: "I started with all the balls in the default grey color, ran the animation and left the balls fall into the 4 sections under the effect of gravity."
Ah – very clever! Yahya continues: "After that, I colored the balls in each section the same color, then dragged the appearance keys of all balls to the beginning of the animation."
"All that was left was to recalculate the animation and watch as the balls got sorted according to their color!"
Figuring out ways to make things work that aren't so obvious at first? OK – maybe we aren't so far away from exhibiting 'hardcore engineering principles' as we may have thought!
Nevertheless, Yahya's also shared other more traditionally mechanical animations to LinkedIn, such as animating a passive pressure gauge while tracing its path.
All of these have been posted at one time or another to Yahya's LinkedIn. At times, when I see interesting things being posted to fellow LinkedIn member feeds, I still catch myself wondering: "What does the creator feel they're getting out of creating and sharing this piece?"
I actually asked Yahya this same question. Yahya responded: "I share my animations for 3 main reasons: getting feedback, inspiring others and- most importantly – motivating myself." I imagine this is true for many people. Having your work seen incites all of these powerful forcing functions pressing you to continue on in your journey.
And what does Yahya value about the community we've all come to create? "I like how diverse the community is, especially the user experience & the wide range of topics we discuss."
"I also like how selflessness is the norm, and how everyone is just willing to help – even if that means dedicating some of your own time for it!"
This rang so true for me. In many ways, Yahya offered a restatement of the founding values of the SOLIDWORKS Champions Program – to acknowledge and connect community members in industry from around the world who go above and beyond in sharing their SOLIDWORKS passion and expertise.
Yahya agreed, offering "I joined the Champions Program because I've always found surrounding myself with those who share my passion to be the best way to make good use of my experience, as well as a way to increase my knowledge."
This much is clear! You can connect with Yahya on LinkedIn here, and see an aggregate of Yahya's many animations within this post inside the Made In 3D community.