Component Preview Window in SOLIDWORKS 2016
For anyone who has struggled to select the correct face of a component while mating, there is a new feature to help. Whether we're trying to find the face on the assembly or the component to mate, there is a new Component Preview Window in SOLIDWORKS that was noted as one of the top new features in SOLIDWORKS 2016. It can aid in tricky mating situations such as odd angle insertions or just out-of-view geometry. This can be used with any component in an assembly or subassembly.
Check out the example below to see how the window fits into the process:
STEP 1: First, we will select the initial component we wish to mate. Then navigate to the Component Preview Window icon with the part selected on the context menu.
Or find it in the main menu under Tools > Component > Preview Window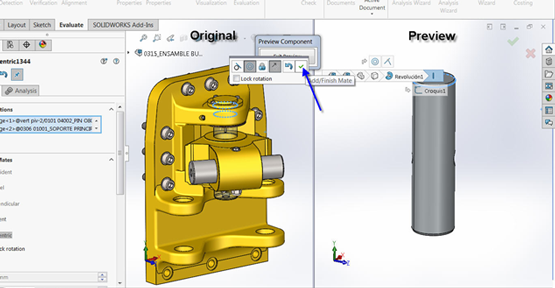 STEP 2: Next, we'll add our first mate. That is, a coincident between the two flush surfaces of the pivot preview and the spacer.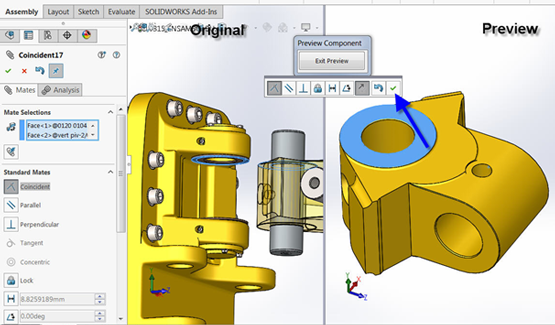 STEP 3: For our second mate, we'll continue by selecting the upper edge of the pin in the preview window to use with a new concentric mate.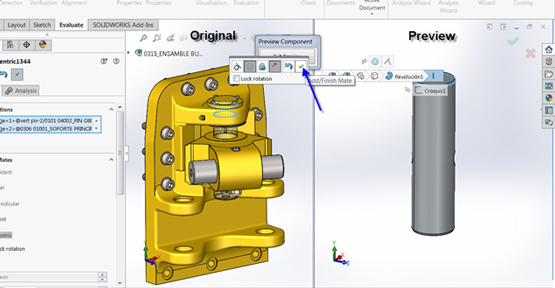 Note: Upon opening the component preview window, a second feature manager window opens above the first. Here you can view the current mates that are constraining the part and other feature information.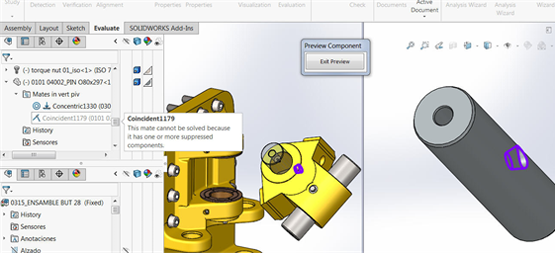 STEP 4: Next, we will add a final limiting angle mate to constrain the feature fully. This allows for a real lifelike function of the pivoting part that stops its rotation upon contact.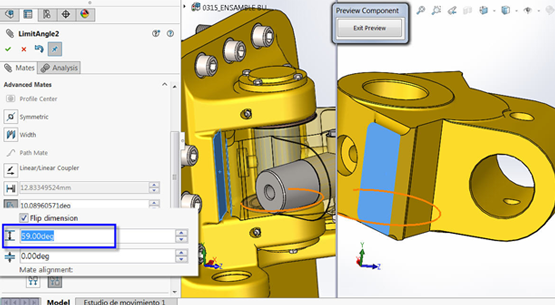 STEP 5: Click Exit Preview to close the window.
Hopefully this quick example shows how this feature can help in your design. Finally, there's a new alternative to using the Triad or rotating the position of the part during mating. It might even become a useful part of your everyday design!
Looking for more on new features in SOLIDWORKS 2016? Check out these articles on the Alignex Blog: Top Changes in SOLIDWORKS 2016 to Assembly Mates and Motion or Copying Multiple Components in SOLIDWORKS 2016.